Question:
The installer integrity check failed, what do I do?
Answer:
After downloading the NumXL setup (installer) program of the website and attempt to launch the installer, an NSIS Error message pops up: "Installer integrity check failed, Common causes are incomplete download and damaged media".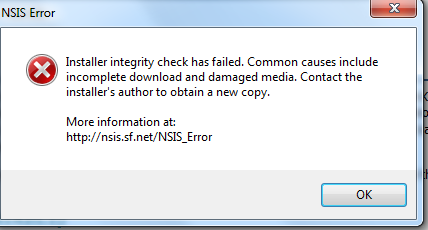 Please, check the downloaded file size. If the size is suspiciously small ( less than 1024k), then you have an incomplete download. Otherwise, contact our support line
For incomplete download, please try again, but this time, right-click on the download link, a popup menu is shown, choose the "Save Link as" option, and select a folder on your local disk (e.g. C:\temp).