Question:
Why does the calibration function in NumXL show the constraint's rhs of 0.9999?
Answer:
When you click on the "Calibration" icon in the toolbar (or menu), NumXL prepares all inputs of the solver using the selected model, and add one constraint (As shown below):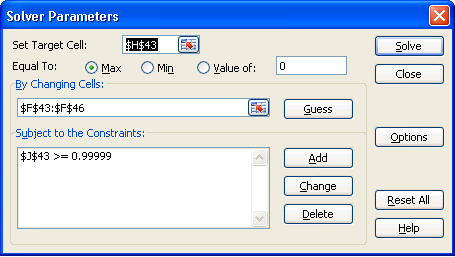 The constraint is added to make sure the solver searches only for a stable model (e.g. invertible, characteristics root outside unit-circle, etc.). NumXL has functions for the different models that check the stability of the model and returns either 0/1.
Ideally, the constrain above should state something like ($J$43=1), but due to an issue in the Excel Solver using VBA, we introduced a work-around to overcome situations where the first constraint is missing or dropped.