Question:
I am using Microsoft Office 365 on Windows 10, but now, when I click on the "Solver" button in the "Data" tab (see image), a "Compile error in hidden module: SolverCode" error message pops up: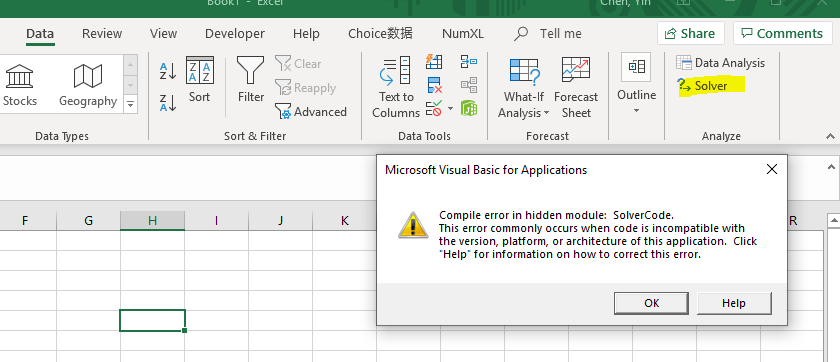 what does this mean?
Answer:
We have seen this issue with few users: some did not have NumXL installed. The solver is an add-in that is bundled with the Microsoft Office suite, so this issue is an issue with Microsoft Office installation.
See our blog on this topic here: Windows 10 Cumulative Update (KB4511553)
Going forward, to address this issue, we are proposing the following:
Uninstall NumXL from your system (go to the classic control panel)
Uninstall Office 365 from your system.
Reboot your system.
Go to Windows Update, and make sure your system is up to date
Install Office 365 (using the online installer from the Microsoft office)
Open Excel, and enable Solver add-in (comes with MS Office)
From the data tab, click on the solver to open it.
As soon as Solver opens its window successfully, go ahead and install NumXL (download a new installer from our website)